Together with Altendorf GmbH and KTH Royal Institute of Technology, ManoMotion gets funding from Vinnova for developing a Predictive Safety system.
Vinnova is Sweden's innovation agency and helps to build Sweden's innovation capacity, contributing to sustainable growth.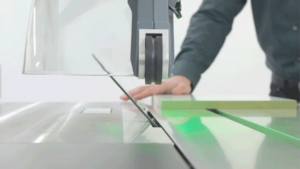 Industrial automation and safety is one of the main applications of hand tracking and gesture recognition technology. Since 2019, ManoMotion have been cooperating in this domain together with Altendorf to achieve a breakthrough in enhancing the safety of the industrial saw machines by tracking human hands and avoiding serious accidents automatically. We call this Proactive Safety and it is used in the Altendorf Hand Guard Safety System. Illustrated in the picture above.
The Vinnova funding was given to take Proactive Safety to the next level. A Predictive Safety system will be developed, based on the analysis of history and context where we can predict potential accidents at an early stage and adapt the machine's behavior. The utilized information in Predictive safety can include the hand tracking, face and behavior analysis of operators as well as understanding of the environmental information, such as lighting condition, materials, objects, etc.The project will lead to significant value additions compared to the current Hand Guard solution, with a higher level of safety and productivity, thanks to new innovative integrated smart functionality that will allow operators to work more efficiently, with more accurate results while deterring risky behavior that can cause accidents and repetitive strain injuries.
"We are thrilled to continue improving the safety for employers in the Industry sector. That Vinnova decided to help fund this shows that it is very important." Says Lars Österberg, CEO of ManoMotion.