MuchSkills 3.0: Map, Manage, Discover and Deploy Workplace Skills Like Never Before
Swedish skills mapping startup MuchSkills announces the launch of MuchSkills 3.0 – a major upgrade that will further revolutionise the way organisations map, manage, discover and utilise workplace skills using its ground-breaking skills visualisation tool.
MuchSkills 3.0 will give users deeper, layered and visualized insights into the compositions of teams, departments and organisations in terms of skills, skill levels and even an employee's interest in using those skills. In short, the upgrade will equip organisations with real-time discoverability of their skills database and allow them to slice and dice skills data in whatever way they want for actionable insights.
The upgrade, which rolled out on September 27, incorporates suggestions from some of the world's biggest consultancies, banks, environmental organizations and game developers.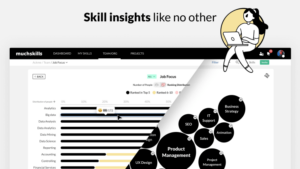 "MuchSkills is truly mind-bending because there is no other skills tool in the market that helps organisations map skills in a non-biased and inclusive manner while giving them the ability to help employees deploy their strengths at work," said CEO Daniel Nilsson. "Developed after feedback from many of the world's most innovative, employee-centric and forward-thinking organisations, MuchSkills 3.0 makes it easier for our customers to do all this and more."
Here's what's new in MuchSkills 3.0:
Slice and dice skills data in whatever way you want: Users can already view skills data by skill density and level of interest across departments and locations. Now, they can go deeper. Among other things, bar charts will help them easily analyse skills data.
Improved search and new filters: Search for specific skills and find individuals with those skills and more. Use filters to focus your search on only one department, location, skill, skill level and more.
Insights on every skill in your organization: Viewing skills data has never been this much fun. In just a few clicks, view easy-to-understand visualisations of available skills, skills distribution, expertise levels and interest at team, department and organization levels. Discover skills gaps and use this data to guide your upskilling initiatives or recruitment.
New and improved custom skills: Descriptors for each custom skill to eliminate confusion. Managers/admins can set a master list of mandatory skills that are recommended to employees creating skills profiles, and can also decide if custom skills should be made available to everyone or just to specific departments.