Gleechi announces major platform release, making Virtual Reality training available as a service
Gleechi AB, an award-winning developer of Virtual Reality training solutions, is today announcing a milestone release of the Gleechi Training Platform.
The release provides a powerful suite of no-code creation tools, delivered as a service, enabling companies to engage in a training metaverse with their own stunning VR training experiences.
The suite of tools offers a radical re-think in how VR training is created and consumed by organisations, enabling customised training experiences while eliminating the need for specialised development know-how. New feature highlights include: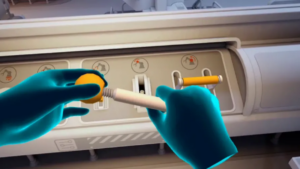 – Creation and customisation of stunning VR environments and objects
– Automatic creation of natural interactions for more immersive experiences
– Dynamic adding and editing of steps and instructions
– Pedagogically proven instruction and feedback systems
– Distribution of VR training experiences
– Transformation of data into actionable insights to support users
The Gleechi Training Platform provides an end-to-end solution for clients in selected segments to set up and deploy VR training adapted to their business needs without any development overhead.
"While VR training has repeatedly been proven to reduce time spent in training, improve knowledge retention, reduce injuries and unnecessary downtime, it has traditionally been costly and time-consuming to implement.
The Gleechi Training Platform provides a way to address the growing demand for VR training at scale, providing a way for organisations to easily tailor training to their specific needs and take advantage of possibilities that VR training offers."