The new Employchain job search app has finally been launched on both Apple App Store and Google Play in November 2021.
The mobile app offers more than 61,000 jobs from all over Sweden and takes a lead step towards the future of mobile recruitment.
The new release of Employchain version 1.2.4 provides students and job seekers a better user experience of finding jobs on a mobile application. Similar to Tinder, Employchain aims to make the tedious and time-consuming job search for any type of work, including internships, convenient and fun.
App users first create a profile within 5 minutes: selecting their personal and professional information (e.g. skills, languages, education, work experience, etc.), applying a location filter, optionally uploading important documents. Alternatively, users can log in with one click through their Google or Facebook account or by using their Apple ID. All actions can be set up with mobile devices. Afterwards, the swiping begins and jobs will appear like dates would on Tinder. What is really unique about Employchain compared to existing apps is the refinement with a skill level of 1-5 and the super-fast tailoring of one's profile, which allows for a much faster job application.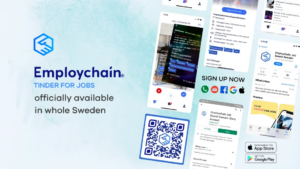 Employchain ranks tens of thousands of job openings in a customized feed based on the relevance of the user's qualifications and skills. Moreover, users can add missing skills directly from a job card instead of editing their profile manually.
The concept is simple and intuitive. Employchain automatically creates the desired application from the submitted personal and professional information and sends it via email to recruiters. Never has the application process been so easy and mobile-friendly.
"Employchain – the Tinder for jobs"
In times in which mobile recruitment is growing every year, it is a great step for the Swedish market to introduce such an app. The hiring process is foreseen to get more and more facilitated and mobile recruitment the new normal. In an increasingly competitive market, it is important to send out as many applications as possible. Therefore, web apps are no longer optimized, most software applications switch to be mobile or hybrid as studies have shown.
This change benefits both job seekers and recruiters. With the mobile recruitment process, Employchain enables recruiters to reach a larger pool of top talent by increasing the number of applications.
The mission is to ease the search for a job, not only for Swedish speakers but all international students arriving every semester, seeking to make Employchain the new go-to for students in Sweden.
Employchain signifies a new way of searching for jobs and connects convenience with an exhausting task such as job hunting. More than 61,000 job postings from 400 schools and universities are available in the app and can be freely discovered by talents from all over Sweden.