For MNOs, significant change is underway in terms of how eSIM activation is enabled.
Just like the traditional removable SIM, embedded SIMs rely on the GSMA's standards to create the foundations for a fully interoperable ecosystem. Those standards address the three key elements of a smooth and trusted digital customer experience and in particular how to activate eSIM:
The means by which subscriptions (profiles) are downloaded securely to an eSIM
The application on the device (the Local Profile Assistant or LPA), managing interaction with the which enables consumers to manage subscriptions from their mobile devices
The Secure communication between the server and the eSIM
To acquire new customers, MNOs need a simple means for eSIM activation, regardless of channel, along with straightforward connectivity for end users. At the same time, OEMs require an equally efficient means of promoting their eSIM capable devices to the market.
This is where the GSMA Root Discovery Service came into play. Built on GSMA remote SIM provisioning specifications, offered by the GSMA and powered by a Thales platform, it enables a seamless approach to connecting devices with subscriber profiles. Using the GSMA Root Discovery Service, MNOs can download and activate their subscriptions to all eSIM capable devices. Indeed, the root SM-DS provides automatically the eSIM-capable devices  with the SM-DP+ address of the Mobile Network Operator. From an end user's perspective the remote eSIM activation is as seamless as one click.
Adopting the right strategy for a dynamic market
Reflecting the

benefits provided for MNOs, OEMs and end users, the GSMA Discovery Service framework is quickly gathering momentum. Furthermore, alongside the opportunities offered by the GSMA solution, some OEMs have identified the potential to differentiate themselves from competitors and further promote eSIM capable devices to MNOs by launching their own Discovery Services. Such OEMs are essentially seeking to replicate the Root Discovery Service framework within their own commercial environment.
In this context it is vital that MNOs have the ability to reach and activate securely the entire

population of eSIM capable devices. However, to maximize the opportunities available, MNOs also need the technical capability to connect to all OEMs' proprietary Discovery Services, as well as the GSMA's Root Discovery Service.
SMDS Connect to maximize the reach and activation of eSIM capable devices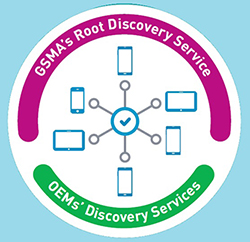 This is where SMDS Connect comes into play. This proven solution provides the means of automatically connecting an MNO's backend system to the GSMA's Root Discovery Service and all other deployed proprietary Discovery Services. As a result, MNOs can be confident they are maximizing their ability to reach and activate eSIM capable devices, and therefore reach customers, seamlessly and securely, ensuring MNOs have the potential for 360° access to the critical, fast growing market of eSIM capable devices.