sKarn RoboticS, a high-tech company providing security and privacy solutions to businesses, consumers, and the government sector, is strengthening its solution portfolio with biometric access control and co-branded biometric payment cards built on Zwipe's technology.
Headquartered in Oslo with a global presence, Zwipe is pioneering the deployment of the next generation biometric payment and access control cards globally.
Founded in 2019, sKarn RoboticS is one of the key contributors to the 'Self Reliance' initiative of the Indian government. The company is investing heavily in building ultra-secure digital products and services ecosystems for end-users and businesses. Its WeCript portfolio delivers high-grade security and privacy controls for remote communication, secure searching, browsing, SaaS and e-commerce. Right to privacy, right to freedom and right to information are the three core values at sKarn RoboticS. The company recently won "2021 Global Revolutionary Founder of the Year" and "2021 Global Innovative Product of the Year" from the Government of India.
Speaking on the collaboration, sKarn RoboticS's Founder & COO, THE KARN, said, "Our mission is to provide highly secured digital services that significantly empower end-users with top rated privacy, security and digital experience. Zwipe's extremely secure biometric payment and access control cards strongly complement our core values and fit perfectly in the WeCript Ecosystem, our solution portfolio. From Q3 2022 or before, we aim to launch pilots for our B2C and B2B customers with a few thousand biometric access control and payment cards and expect a rapid scale-up thereafter. Biometric cards will create meaningful value for all our customers."
sKarn RoboticS will take deliveries from selected manufacturers of biometric cards in Zwipe's global ecosystem with focus on India and key growth markets.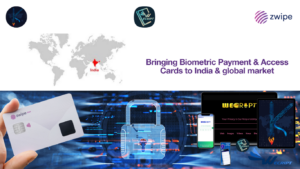 Commenting on this development, André Løvestam, Chief Executive Officer at Zwipe, said: "It is great to see an ambitious and fast-moving high-tech security solution provider such as sKarn RoboticS, with its WeCript Ecosystem, recognize the value of biometric cards for its customers. Both organizations share the passion to deliver enhanced security, privacy and convenience to our direct customers and end customers. We are very much looking forward to our collaboration with sKarn RoboticS and their customers".