Impronova, a leading expert company delivering consultancy, mentoring and support within the areas of quality, process, safety and procurement will reinforce Qamcom's System Safety domain.
For Qamcom, a knowledge-based technology company within hardware, software and system development the acquisition is an important step to claim an even stronger position within the Safety domain and make the offering even more relevant.
"It's a great honor to welcome Alec Dorling and the Impronova team to Qamcom. Impronova has done a great job in establishing itself as a global leader in software and system process assessments and certifications. We're committed to shoulder that great heritage and build an even brighter future" says Anders Werneman, Domain Responsible for System Safety at Qamcom.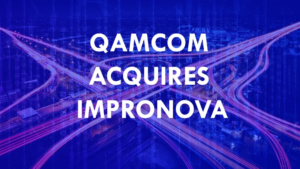 "We are very glad to become a part of such an impressive technology company as Qamcom. Their long experience, deep competence and advanced projects in various technology and industry fields is a perfect match for us. Our combined offering, together with our international customer base, will add another dimension to the capability as a whole and create even more customer value" says Alec Dorling, Founder at Impronova.
The acquisition will especially improve Qamcom's offer regarding implementation of processes to meet the requirements of international standard best practice models such as ISO9001, Automotive SPICE, ISO 26262 and ISO/SAE 21434.
Something that aligns with Qamcom's ambition to constantly make safety-critical systems even safer.