The OPTIMA packaging group GmbH will in future base the remote maintenance and protection of their customers' machines and systems on a security solution from the German network and security specialist LANCOM Systems.
The core of the new solution is a next generation firewall, which was developed in cooperation with OPTIMA especially for industrial environments.
It will in future be used in all machines and systems produced by the manufacturer from Schwäbisch Hall, Germany, and it can be retrofitted to lines that were purchased previously. The project was supported by the system integrator and service provider Communication Systems GmbH.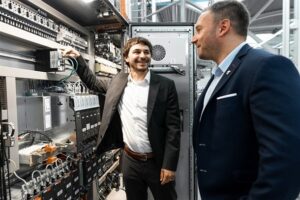 At the heart of the new security solution is the LANCOM R&S® Unified Firewall UF-T60, which in future will be used on every new OPTIMA line. The firewall monitors and logs remote-maintenance activities on the customer's machines, and it can be used for the segmentation of machine networks. The hardware is specially hardened for use in harsh industrial environments. An encrypted VPN ensures secure communication, which significantly increases the security level of the entire network. Delivered cloud-ready, the firewall is easily and securely implemented in the customer network with just a few clicks by means of the LANCOM Management Cloud (LMC). All data traffic is logged and monitored.
"We took a close look at the solutions from various security providers and had intensive discussions. In the end, we decided on LANCOM as the manufacturer. The finished solution is the result of months of development work invested by LANCOM and by us. It was a major challenge for everyone involved, but it was good fun working together," says Dr. Benjamin Häfner, Group Leader of Industrial IT at OPTIMA.
"Together with OPTIMA, we have developed a unique solution that promises a level of security that is outstanding on the market for the industrial and manufacturing sector. Particularly in an area as sensitive as the machine network—which is a direct interface to the customer's network—maximum security is hugely important," says Markus Irle, Vice President Firewall & Security at LANCOM Systems.