Exclusive Networks, a global trusted cybersecurity specialist for digital infrastructure, has been appointed the first value-added distribution partner for Salt Security, the leading global API security company.
As part of the agreement, Exclusive will have sole distribution rights for the Salt Security API Protection Platform across EMEA, with initial focus on the UK, France, DACH, Benelux, Spain, Nordics and Italy.
API attacks have become the dominant application attack vector, increasing in both volume and severity. Exclusive's partnership with Salt Security will help combat the growing risks of API-specific cyber threats. The new partnership will focus on scaling and supporting the adoption of the Salt Security platform across EMEA, enabling channel partners to address this significant and growing market opportunity.
To support growth plans and channel strategy for Salt Security across Europe, Exclusive will leverage its expertise and successful track record in helping emerging and disruptive cybersecurity vendors penetrate EMEA markets. Exclusive will take the lead on channel development, driving partner recruitment, onboarding, and enablement. Additional go-to-market momentum will be provided through Exclusive's DevSecOps and cloud-native technologies specialist, Nuaware, focussing on end-user engagement, creating market demand, and driving customer adoption.
Denis Ferrand-Ajchenbaum, VP Global Ecosystems and Alliances at Exclusive Networks said, "It's now acknowledged by all the leading analysts that API threats require specialised solutions to be effective. The market requirement is well-established and growing, both in terms of stopping API attacks and to eliminate API vulnerabilities in the DevOps process. APIs are an essential element of every organisation's digital evolution, but a potential backdoor for cyber attacks.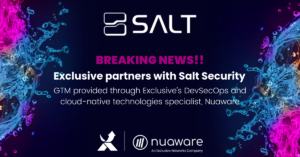 "Many organisations have a progressive API-first strategy but are only now beginning to grapple with the security implications of such an approach. Salt Security is a perfect fit and aligns seamlessly with the rest of our portfolio. We're very excited about growing the base of Salt Security partners and supporting their go-to-market; including equipping them with fast, compelling audit capabilities that put API security onto the customer agenda."
"We are pleased to be working together with Exclusive Networks to enable channel partners across EMEA, as well as to leverage its recognized specialist capabilities in bringing new technology to market," said Sunil Dutt, Director of Channel Sales, EMEA and APAC, Salt Security. "API security is now a defined category in cybersecurity, reflecting both the grave risks that API threats represent and the inadequacy of general-purpose AppSec solutions to defend against today's sophisticated API attacks."