With the help of data from Helsingborg and Elsinore, the light installation of the Internet of Things- and art project Över sundet will show the mood of the cities.
The color of the installation and its intensity will change depending on how much data the artwork collects.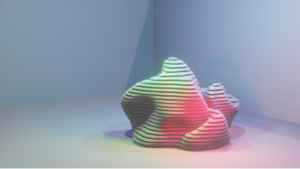 The installation is connected to Internet of Things-sensors that measure the cities' air pressure, temperature, humidity, noise levels and pollution. A total of 60 sensors will be located in Helsingborg and Elsinore. The youth of the cities will be responsible of taking care of sensors, they will be in dialog with the artists and together learn about the environments of the cities. The installation also collects data from activity on social media and a web application where residents can register their mood manually.
During the beginning until the middle of March, workshops will be arranged in both cities. Children and young people are going learn how to handle the sensors. The artists will inform about the technical aspects, what possibilities there are with collecting data but also its consequences. Together, they will explore how technology and art can work together.
"Children and young people have one of the most important roles in the process of making the light installation come alive. Their participation is part of the artwork. Without their commitment, the installation does not tell a story or give us a picture of the mood in and between Helsingborg and Helsingör", says Alexandra Hvalgren, process manager, City of Helsingborg.
The art installation will be exhibited at Kulturværftet in Elsinore during the month of April 2022. In Helsingborg, the installation will be shown between 3 June and 3 July at Dunkers kulturhus, the artwork will be exhibit during the international city fair H22 City Expo.
The artists and designers are Johan Gelinder, Emil Berzén from Sweden and Healthy Mind Tech from Denmark; Paula Petcu, Troels Nielsen, Martin Basterrechea, Alastair Clewlow and Kim Ng.