Season's Greetings and a big shout out to all our clients and friends for turning another year of covid into a big success. 
What a different year it was for all of us. Again!
And yet, despite the pandemic we all somehow pulled together. For us, it was a real eye-opener to witness the amazing efforts by many of our international clients to keep their businesses moving forward. You are the heroes. You blow our minds.
Sure, we at Open www.open.se can support with branding and marketing communications activities. But nothing truly  compares to losing 30-50% of your business, having to make fundamental organisational changes, service teams having to use augmented reality (in some cases) to guide customers for safety and health reasons. The list goes on.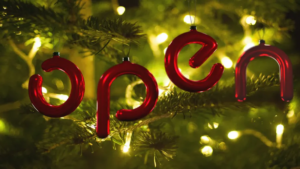 Yet despite much uncertainty, we still see a lot of optimism. And a lot of humanity and empathy on all fronts. We are truly humbled to be able to continue to serve you throughout these tough times. And incredibly grateful to keep getting new business requests. For us, the big challenge was moving to a new office and taking on new staff without you even noticing (well, maybe some of you did :).
May the holiday season now fill your homes with joy, your hearts with love and your life with laughter.
Warm hugs from all of us at Open Communications, and see you next year!