Congratulations to our Global Commercial Director Alexandra Blomberg who won the B2B Commercial Excellence Director 2021 Award from Mercuri International at their annual awards ceremony on November 18th 2021.
The annual Sales Awards from Mercuri International celebrate B2B role models and ambassadors.
Individuals are nominated, and the judging panel then selects the finalists and winners by analysing qualitative and quantitative data. The B2B Commercial Excellence Director of the Year is awarded to a B2B executive who represents modern leadership in a changing world.
Speaking about why Alexandra won the award, Mercuri International said,"Alexandra has demonstrated excellent leadership as a manager and produced great results over time, especially during the pandemic. She is an inspiring role model and ambassador for modern leadership, particularly when it comes to digitalization, customer analysis, and sales and marketing integration. Furthermore, Alexandra represents a company that is generating money by contributing to an important cause."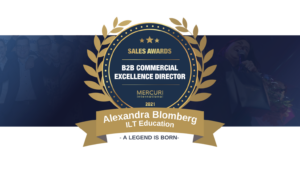 Jakob Skogholm, CEO of ILT Education went on to say,"We are glad to see that the excellence demonstrated by our sales and marketing teams around the world is recognised with this award, and that we manage to attract the best people! Also a big congratulations to Alexandra who has been leading our commercial department for the past 5 years!"