Zwipe and the National Bank of Iraq are pleased to confirm that they will pilot Biometric Payment Cards built on the Zwipe Pay platform, making it one of the first pilots of the next generation contactless payment cards in Iraq.
The National Bank of Iraq (NBI) is one of the largest private banks in the country.
Its majority ownership and management has been under Jordan's Capital Bank Group since 2005. The bank provides a comprehensive range of banking services to corporates and consumers. Today, NBI has 19 branches in all major cities in Iraq, a key emerging market in the Middle East seeking innovation in its payment ecosystem to minimize fraud and corruption and deliver an excellent user experience.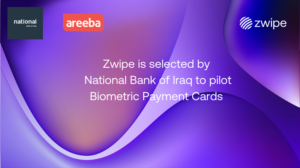 Speaking on this development, Mr. Ayman Abu Dhaim, CEO at the National Bank of Iraq said,"We are very pleased to partner with Zwipe, a leading technology brand in biometric payment cards globally, and areeba, a leading payment service provider in the region. We are keen to be amongst the first banks in the region to introduce this world-class innovation, ensuring that our customers are extremely well protected when using payment cards while enjoying a great user experience. We are aiming for the pilot to commence in the summer of 2022."
Mr. Issam Adra, General Manager of areeba Iraq, added: "Biometric payment cards will make the lives of NBI's customers frictionless, safer, and more secure. areeba is a well-known frontrunner in bringing wide-ranging payment innovations to markets. Zwipe is our well-established partner for biometric payment cards, and we are very pleased about extending our collaboration to Iraq."
Ramzi Saboury, General Manager of Zwipe in the MENA Region said, "We are excited to partner with the National Bank of Iraq. I am pleased that our collaboration with the Central Bank of Iraq has encouraged leading Iraqi issuers such as NBI to embrace next-generation payment cards. With 40 million inhabitants and 7 million payment cards, expected to grow to more than 10 million over the next 4 years according to the World Bank, Iraq represents a significant growth opportunity for Zwipe in the Middle East."