Zwipe, Al Mansour Bank and areeba have confirmed that they will pilot Biometric Payment Cards built on the Zwipe Pay platform in Iraq.
This will be one of the earliest pilots of next generation contactless payment cards in the country.
Al Mansour Bank is a private bank with Qatar National Bank (QNB) as its majority owner. The bank was established in 2005 and today it has more than 10 branches across Iraq. The bank is always seeking innovative products to introduce to the Iraqi market.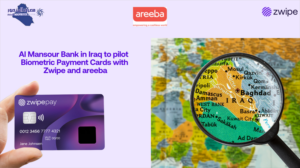 Speaking on this development, Mr. Roger Abboud, Head of Retail, AI Mansour Bank said, "Post pandemic, we have seen strong demand for PIN-free and touch-less payment solutions as they are safer and much more secure. We are delighted to partner with Zwipe, a leading provider of biometric payment technologies and areeba, a respected leader in innovative payment services. Biometric Payment Cards will uplift our payment portfolio and enable us to deliver excellent service quality to our customers. We are now working with both partners to launch pilots in the coming months."
Mr. Issam Adra, General Manager of areeba Iraq said: "We are excited to be part of Al Mansour Bank's biometric payment cards initiative and confident to deliver a world-class experience and security to the bank's customers. areeba has for a long-time pioneered payment innovations that uplift customer loyalty, create unique differentiation and strong business cases for banks. Biometric payment cards will be instrumental in continuing this effort."
Ramzi Saboury, General Manager of Zwipe in the MENA Region added, "The banking sector in Iraq is demonstrating a great appetite for innovation. We are thrilled with our collaboration with Al Mansour Bank on biometric payment cards together with areeba, one of our key partners in the region."